The Global Leaders in Certificate Attestation, Authentication and Verification Services
APPROVED BY MINISTRIES AND EMBASSIES | AN ISO CERTIFIED ATTESTATION COMPANY
Accommodation in Gulf
The most troubling question that comes to everyone's mind when they visit Gulf countries is about getting good accommodation facilities. Finding accommodation in Gulf countries is not an easy task.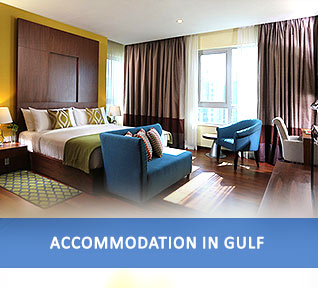 Anyone who is visiting the Gulf countries for the first time will find it difficult to get accommodation in the country.
It is also very important to look for a place that suits your needs and comes under your budget.
The most common issue faced by people travelling to Gulf countries is that sometimes they will be charged a huge amount for accommodation.
Now you don't need to worry about finding accommodation facilities in the Gulf countries.
Urogulf can help you to find the best accommodation facilities in the Gulf within your budget.
To know more about Accommodation in Gulf
Get in touch with our Experts
How Urogulf Can Help you to find Accommodation in Gulf
Urogulf is an ISO certified attestation company approved by ministries and embassies in India and abroad. It is the largest attestation company with more than hundred offices in India and abroad. Established in 2004, we provide certificate attestation, authentication and verification services.
Urogulf can help you to find suitable places to stay for short term and long term visits in the Gulf countries. We will provide you with the best accommodation services that suit your requirements. Our team can also provide hotel reservations for your business trips, holidays etc. We will help you to find a rented house for you. Our team of professionals will help you to save time and money by arranging the best accommodation facilities.
We are here to help you
Looking for attestation services ? Reach out to us using the form below.
Promise on Quality and Reliability
We have over 15 years of experience and credibility in the field of document attestation services. The trust, and reliability that our customers has in us made us a trustworthy companion for them throughout these years. Our motto is a quick, hassle-free and secure document attestation services to all our customers who approach us