The Global Leaders in Certificate Attestation, Authentication and Verification Services
APPROVED BY MINISTRIES AND EMBASSIES | AN ISO CERTIFIED ATTESTATION COMPANY
Kuwait Embassy Attestation Services
Kuwait embassy attestation services is required for all personal and commercial documents. Certificate attestation process has to be done according to the guidelines of Kuwait embassy. It is necessary for getting work permit in Kuwait or securing admission to the universities in Kuwait.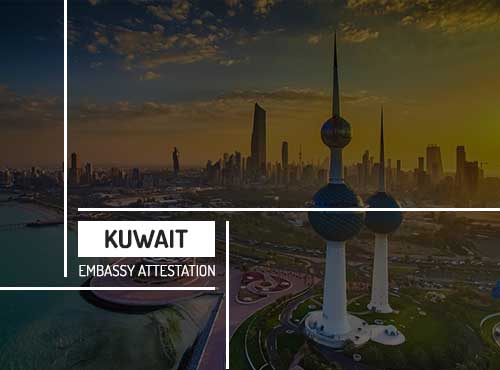 What is meant by Embassy Attestation
When you apply for the visa of any country, it is a prerequisite to submit documents for verification. The country for which you are applying for visa needs to know the authenticity of the submitted documents; therefore, they require you to attest your documents from their respective embassies in your home country. In case of the absence of an embassy in your country, you shall approach the nearest consulate of that country.
Need for Kuwait Embassy Attestation
Kuwait embassy attestation is necessary to legalize the documents submitted by you for employment or studies. Kuwait embassy certificate attestation is required for getting a work permit, for starting a business in Kuwait or for getting a business license in Kuwait. Without proper embassy attestation your application will be rejected. Kuwait embassy certificate attestation is necessary for getting your family/residence visa or for sponsoring your spouse. It is also mandatory for getting admissions in Kuwait schools and universities.
To know more about Kuwait Embassy Attestation
Get in touch with our Experts
Procedures of Kuwait Embassy Attestation
Embassy Attestation: In the third and final process, you need to submit the documents to the Kuwait embassy in your home country.
MOFA Kuwait: The Ministry of Foreign Affairs of Kuwait verifies the document and attest the documents.
We are here to help you
Looking for attestation services ? Reach out to us using the form below.
How Urogulf Helps in Kuwait Embassy Certificate Attestation Services
It is always advisable to take the help of an expert when it comes to professional services. That is because professional experts know how to go forward with the procedure in the right way and know different ways to do the procedure because of their years of experience in the service field. Urogulf helps you to complete your Kuwait embassy document attestation and authentication services in a quick and hassle-free way. You need not shoulder all the hardship of going through each and every place to complete the Kuwait certificate attestation process. Our experts will help you in getting your certificates attested from the Kuwait embassy/consulate in Delhi, India in the most secure way within a limited time period. We ensure the safety of your documents and assure prompt delivery of the attested documents back to you after completing the entire process. We provide embassy certificate services for documents like marriage certificate, birth certificate, educational documents etc. The embassy attestation charges/fees for Kuwait depends on the type of document that you want to attest.
Family Visa.
Education Visa.
Employment Visa.
Birth Certificate.
Commercial Documents.
Marriage Certificate.
Get in touch with our expert team in Kuwait office for any Kuwait embassy attestation services. We have a branch office each in Kuwait and other countries of the Middle East. Urogulf has offices in almost all major states and cities of India.
Documents Required for Kuwait Embassy Attestation
The requirement of documents depends on the type of visa you are applying for.
Promise on Quality and Reliability
We have over 15 years of experience and credibility in the field of document attestation services. The trust, and reliability that our customers has in us made us a trustworthy companion for them throughout these years. Our motto is a quick, hassle-free and secure document attestation services to all our customers who approach us
Read what our clients are saying
Visited during last month.The attitude of people and service mentality is excellent.
Had a great experience..completed attestation for WES in committed tym..approach is very friendly and easy to communicate too.