The Global Leaders in Certificate Attestation, Authentication and Verification Services
APPROVED BY MINISTRIES AND EMBASSIES | AN ISO CERTIFIED ATTESTATION COMPANY
Birth Certificate Attestation
Birth certificate attestation is the process of attesting birth certificate for migrating to another country. It is necessary to prove the authenticity of the document to use abroad. Birth certificate attestation has to be issued from the country where you are born.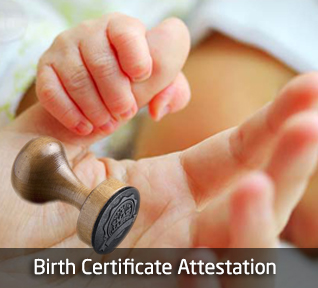 Need For Birth Certificate Attestation
Birth certificate attestation is needed while you are applying for a visa to migrate to another country. It is a mandatory requirement to provide attested birth certificate if you are planning to take your kids along with you abroad. In many countries, it is mandatory to provide birth certificate for various purposes such as social security card, for admission in schools and universities, for identification etc.
Birth certificate attestation is a necessary requirement for your children to get admission in foreign schools and universities. You need to provide the attested birth certificate document for getting a family visa abroad. It is also required for employment and migration purposes. Birth certificate attestation is needed to verify your age and the place from where it was issued.
To know more about Birth Attestation
Get in touch with our Experts
Birth Certificate Attestation by Urogulf
Urogulf Global Services is an ISO certified attestation company approved by Ministries and embassies in India and abroad. We are the largest attestation company in the world with more than one hundred offices across India and abroad. Established in 2004, we provide certificate attestation, authentication and verification services. Urogulf offers you quick and hassle-free birth certificate attestation services. Our expert agents will help you to complete the entire birth certificate attestation process without any delay. You don't need to be physically present to do the attestation process from Urogulf. You can submit the required documents for attestation in any of the Urogulf offices in India or abroad. We also offer mea apostille services for birth certificate attestation. We offer birth certificate attestation services in Kuwait, UAE, Dubai, Sharjah, Saudi Arabia and Qatar. In India we offer birth certificate attestation services in Delhi, Chennai, Kerala etc.
We are here to help you
Looking for attestation services ? Reach out to us using the form below.
Promise on Quality and Reliability
We have over 15 years of experience and credibility in the field of document attestation services. The trust, and reliability that our customers has in us made us a trustworthy companion for them throughout these years. Our motto is a quick, hassle-free and secure document attestation services to all our customers who approach us
Read what our clients are saying
Quick and prompt . Very helpful staff . I got my DM degree attested in the shortest time