The Global Leaders in Certificate Attestation, Authentication and Verification Services
APPROVED BY MINISTRIES AND EMBASSIES | AN ISO CERTIFIED ATTESTATION COMPANY
International Credential Assessment Service of Canada[ICAS]
International Credential Assessment Service of Canada [ICAS] serves as an agency designated by the Minister of Immigration, Refugees and Citizenship to provide credential assessment services to person applying for Immigration to Canada for higher studies.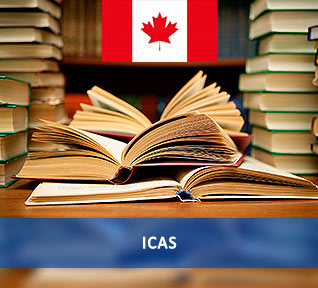 ICAS report helps you understand and compares the education you completed with the education system in Canada. ICAS report gives educational institutions, employers, immigration officials and other agencies a better understanding of the education you completed outside Canada. They provide credential assessment for all levels of education ie., school, college, (graduate and undergraduate) and technical. There is no need to submit the original documents for assessment service.
The Canada Immigration Assessment Package will be accepted for 5 years from the date of issue. After that you need to update, upgrade or renew the ICAS report. The ICAS report includes the formal education completed from recognized universities. You may required to submit a photocopy of translated copy of your certificates if your certificates are not in English or French. The translated photocopy of the certificate should be complete, accurate and in the same format as the original document.
NEED FOR ICAS REPORT
International Credential Assessment Service of Canada is a mandatory requirement while applying for immigration to Canada. ICAS is needed when you apply for higher studies in Canadian universities or to colleges in Ontario. The canadian education system is different from our educational system. Therefore, they need ICAS to assess the credentials to describe and compares it to the education in Canada . ICAS report is necessary for getting admissions in canadian universities. It is really useful when you search for better employment opportunities in Canada.
ICAS report is necessary for immigration to Canada as a skilled worker. The ICAS report is necessary while looking for a job in Canada. It can also be used for part of the licensing process with some official bodies.
Want to know more about our ICAS of Canada
Get in touch with our Experts
How Urogulf can help in ICAS
Urogulf Global Services is an ISO certified attestation company approved by Ministries and embassies in India and abroad. We are the largest attestation company in the world that provides certificate attestation, authentication and verification services. Established in 2004, Urogulf has more than one hundred offices across India and abroad.
We are here to help you
Looking for attestation services ? Reach out to us using the form below.
Urogulf can help and assist you in completing the formalities of International Credential Assessment Service of Canada. You can submit the educational documents in Urogulf office and we will help you carry out the process.
Promise on Quality and Reliability
We have over 15 years of experience and credibility in the field of document attestation services. The trust, and reliability that our customers has in us made us a trustworthy companion for them throughout these years. Our motto is a quick, hassle-free and secure document attestation services to all our customers who approach us