The Global Leaders in Certificate Attestation, Authentication and Verification Services
APPROVED BY MINISTRIES AND EMBASSIES | AN ISO CERTIFIED ATTESTATION COMPANY
GAD Attestation
GAD or the General Administration Department Attestation is the type of attestation done by the Home department of the State.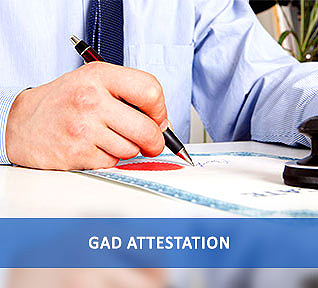 GAD attestation is done for Andhra and Telangana states. It is equivalent to the HRD attestation in other states. It is mainly done for educational documents from government recognized schools and universities.
Need For GAD Attestation
GAD attestation is compulsory for anyone who completed their education from government recognized schools and universities of Andhra and Telangana states. Similar to the HRD attestation, GAD attestation is required while migrating to another country for higher studies or employment. It is needed while applying for admission in foreign universities and schools. The attestation is mainly needed to prove the authenticity of the documents submitted by you. It is required for verification purpose for getting employment as well as some licensing purposes.
To know more about GAD Attestation
Get in touch with our Experts
How Urogulf Helps in GAD Attestation
Urogulf Global Services is an ISO certified attestation company approved by Ministries and embassies in India and abroad. We are the largest attestation company in the world with more than one hundred offices across India and abroad. Established in 2004, we provide certificate attestation, authentication and verification services.
We are here to help you
Looking for attestation services ? Reach out to us using the form below.
Urogulf helps you in getting the GAD attestation for Andhra and Telangana states. You can submit the documents for GAD attestation in any of the Urogulf office in India and abroad. We do the attestation without involving any third parties in the process. Therefore, we guarantee you 100% genuine and reliable attestation services. We provide superior quality attestation services according to the requirements of our customers. We have more than 150 offices operating in all major cities of India and abroad. So we can provide GAD attestation for Hyderabad, Andhra and Telangana within a limited time period.
Promise on Quality and Reliability
We have over 15 years of experience and credibility in the field of document attestation services. The trust, and reliability that our customers has in us made us a trustworthy companion for them throughout these years. Our motto is a quick, hassle-free and secure document attestation services to all our customers who approach us