The Global Leaders in Certificate Attestation, Authentication and Verification Services
APPROVED BY MINISTRIES AND EMBASSIES | AN ISO CERTIFIED ATTESTATION COMPANY
Oman Embassy Attestation Services
Embassy attestation is not obligatory for authorization of visas to visit or remain in Oman for studies, business or employment purposes. To ensure that the documents you submit before the Oman authorities are genuine, it is necessary to have your certificates attested. Attestation is to be done through the Oman Embassy in your home country is not required for Oman. Apostille Attestation from the MEA is the requirement for Oman. Oman accepts MEA Apostille attestation for all the documents issued from India, because Oman is a members Apostille Union.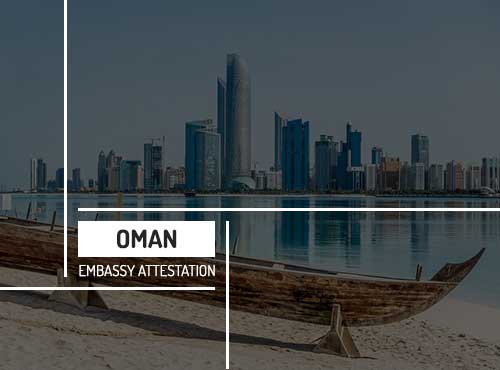 Need for Oman Embassy Attestation on Certificates issued from India
Oman embassy attestation is not essential for the documents. The embassy attestation is vital for the educational, personal and commercial certificates in most of the countries. Oman embassy attestation is not needed for getting admissions in Oman schools, colleges and universities. It is not mandatory to have embassy certificate attestation in educational documents for higher studies in Oman. Embassy certificate attestation is not needed for getting work permit, family visa, or starting a business in Oman etc...
To know more about Oman Embassy Attestation
Get in touch with our Experts
Procedures of Oman Embassy Certificate Attestation
MEA Apostille:The documents are to be attested from the Ministry of External Affairs. For Sultanate of Oman, being a member of Hague Convention, one is required to get an MEA Apostille attestation.
Embassy Attestation: Here, you are required to submit the attested documents from MEA to the Oman embassy in your home country for verification.
How Urogulf Helps in Oman Embassy Certificate Attestation Services
Certificate attestation is an arduous and time-consuming task that is best left to professionals. Moreover, it is confronted with hassles of constant updates and visits to various departments throughout the country. Proficiency and know-how are important ingredients when the matter involves step by step verification and attestation of significant documents.
Thanks to the service of Urogulf, one is considerably spared of the tedious and weary burden of running after the cumbersome attestation processes.
When you hire Urogulf for Oman embassy attestation services, our team of experts will guide you through all your attestation procedures. Our team will aid you to complete the attestation process in the most secure means possible. The principal benefit you gain on availing the service of Urogulf is that you can live- track the status of your documents online through our website.
We are here to help you
Looking for attestation services ? Reach out to us using the form below.
Promise on Quality and Reliability
We have over 15 years of experience and credibility in the field of document attestation services. The trust, and reliability that our customers has in us made us a trustworthy companion for them throughout these years. Our motto is a quick, hassle-free and secure document attestation services to all our customers who approach us
Read what our clients are saying
Very much pleased with their attestation service . With in one week time they have delivered attested certificates. Quick and On time delivery