The Global Leaders in Certificate Attestation, Authentication and Verification Services
APPROVED BY MINISTRIES AND EMBASSIES | AN ISO CERTIFIED ATTESTATION COMPANY
UAE Embassy Attestation Services
UAE is one of the best countries in the world to live. Therefore, millions of people travel to UAE in search of job, doing business and completing their studies. It is also a country that strictly follows rules and regulations. Without proper documentation and papers, the government will not grant you UAE visa. UAE embassy attestation is one such thing without which you will not get visa approval. UAE embassy certificate attestation is essential in order to prove the authenticity of the documents provided by you.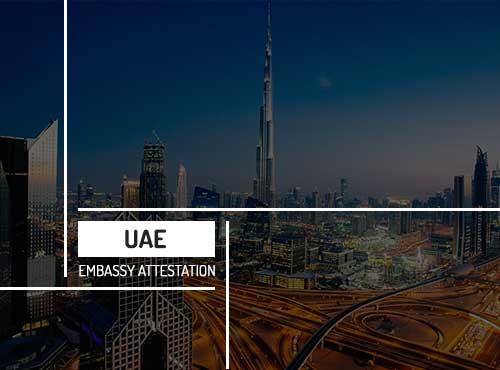 What is meant by Embassy Attestation
When you apply for the visa of any country, it is a prerequisite to submit documents for verification. The country for which you are applying for visa needs to know the authenticity of the submitted documents; therefore, they require you to attest your documents from their respective embassies in your home country. In case of the absence of an embassy in your country, you shall approach the nearest consulate of that country.
Need for UAE Embassy Attestation
UAE embassy attestation is needed for getting a work permit or starting a new business in the UAE. Being a country that strictly adheres to the rules, you need to submit the documents as per the guidelines given by the UAE government. Otherwise, the UAE government can reject your application. UAE embassy attestation is mandatory on your educational, personal and commercial documents to get admission in schools and universities in the UAE, for sponsoring the spouse or for getting a family visa. It is mandatory for getting business licenses in UAE.
Documents Required for UAE Embassy Attestation
The type of visa that you applied for determines what types of document you need for attestation. For example, if you are planning to go to UAE for starting a business, you need to provide commercial certificate for attestation. If you are applying for family visa, you need to provide the marriage certificate and birth certificate of the child.
To know more about UAE Embassy Attestation
Get in touch with our Experts
Procedures of UAE Embassy Attestation
HRD Attestation: Attestation of educational documents from the state HRD of concerned state. HRD attestation is mandatory for UAE.
MEA Attestation: In this second process, certificates are attested from the Ministry of External Affairs.
Embassy Attestation : After MEA, certificates are attested from the UAE embassy/consulate in India..
MOFA UAE: Verification and attestation of your documents from Ministry of Foreign Affairs.
We are here to help you
Looking for attestation services ? Reach out to us using the form below.
UAE Embassy Attestation Services by Urogulf
Urogulf has over 19 years of experience in embassy attestation services all over India and the Middle East. We provide attestation for all types of educational, commercial, private (marriage certificate, birth certificate etc.) and medical certificates. We have a wide network of experts for doing embassy attestation process directly through government agencies. The main advantage of having UAE embassy attestation from Urogulf is that you will get your certificates attested within a limited time without any worries. You can track the status of your certificates through our website whenever you want.
Our Services are available in the major cities in India. We provide our services for different countries in the Middle East. To know more about our embassy attestation services, contact us through our website www.urogulf.com.
UAE Embassy in India
Any Indian who intend to travel to UAE for employment or education purpose should get their certificates attested from UAE embassy in India. In India, UAE embassy is situated in Delhi. UAE embassy services are provided through the consulates in Mumbai and Kerala. Urogulf helps you to complete the entire embassy attestation procedures from UAE embassy in India. We provide our services through UAE embassy in Delhi, UAE embassy in Mumbai, and UAE embassy in Kerala.
Attestation Services in Dubai
Urogulf also offers certificate attestation services in Dubai, Sharjah, UAE, Abu Dhabi. For more details, please contact:
DUBAI
Urogulf Documents Clearing Services, 112 - First Floor, Zainal Mohebi/Pizza
hut/KFC building, Opposite Centre Point,Between Burjuman And Adcb Metro
Station, Shaikh Khalifa Bin Zayed Road,Burjuman, Karama, Dubai -UAE
ABU DHABI
Urogulf, M-6, 2-19, Mohd Ismail Building,
Next To Al Gafa Hotel, Near Dar-Al Shifa Hospital,
Defence Road, Abu Dhabi
Promise on Quality and Reliability
We have over 15 years of experience and credibility in the field of document attestation services. The trust, and reliability that our customers has in us made us a trustworthy companion for them throughout these years. Our motto is a quick, hassle-free and secure document attestation services to all our customers who approach us
Read what our clients are saying
Quick and reliable services... polite staff..