The Global Leaders in Certificate Attestation, Authentication and Verification Services
APPROVED BY MINISTRIES AND EMBASSIES | AN ISO CERTIFIED ATTESTATION COMPANY
SDM [Sub-Divisional Magistrate] Attestation
SDM is the full form of Sub-Divisional Magistrate. SDM attestation is the process of legalizing personal and educational documents with an official stamp and signature from Sub-Divisional Magistrate. It is done in the absence of concerned state Home department attestation. SDM attestation is done only in Delhi.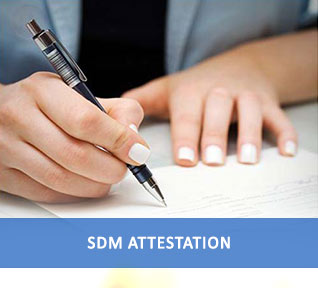 SDM attestation is done for personal documents like birth certificate, marriage certificate, Death certificate, PCC and for educational documents.
Sub Divisional Magistrate is authorized to do the attestation process by the government.
It is an alternative for Home attestation.
Sub Divisional Magistrate verifies and attest the personal and education documents.
To know more about SDM Attestation
Get in touch with our Experts
SDM Attestation Procedure
Personal documents can be attested from either the home department or Notary of the concerned states. The procedure for such attestation is Notary + Home Department, MEA, Embassy etc. You can do the Sub Divisional Magistrate attestation if the Home Department Attestation takes long time duration for attestation. The process of SDM attestation is as follows:
SDM Attestation, Delhi : The documents are attested from the Sub Divisional Magistrate in Delhi.
MEA Attestation : After SDM attestation, the documents are attested from the Ministry of External Affairs.
Embassy Attestation : Later, the documents are attested from the concerned embassy in your home country.
How Urogulf Can Help you in SDM Attestation
Urogulf is an ISO certified attestation company approved by ministries and embassies in India and abroad. It is the largest attestation company with more than hundred offices in India and abroad. Established in 2004, we provide certificate attestation, authentication and verification services.
Urogulf can help and assist you in completing the entire SDM attestation process. You can submit the required documents in any of the Urogulf office in India or abroad. Our dedicated team of professionals offers superior services based on the requirements of the customers. We have an excellent track record for all attestation related services. We handle the documents with utmost safety and provide timely delivery to the customers.
We are here to help you
Looking for attestation services ? Reach out to us using the form below.
Promise on Quality and Reliability
We have over 15 years of experience and credibility in the field of document attestation services. The trust, and reliability that our customers has in us made us a trustworthy companion for them throughout these years. Our motto is a quick, hassle-free and secure document attestation services to all our customers who approach us