The Global Leaders in Certificate Attestation, Authentication and Verification Services
APPROVED BY MINISTRIES AND EMBASSIES | AN ISO CERTIFIED ATTESTATION COMPANY
Attestation For Gulf
Document attestation is necessary for travelling to any of the Gulf countries for employment or higher studies purpose. Attestation is necessary for getting a visa for the Gulf countries like UAE, Qatar, Oman, Kuwait, Saudi Arabia and Bahrain. Documents are attested for various purposes. Document attestation is mainly done for authentication purposes.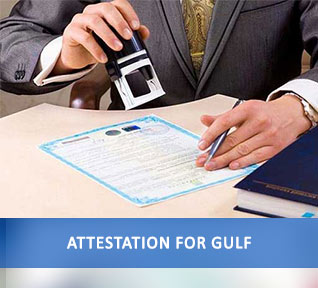 Need for Attestation for Gulf Countries
Any document issued by an institute or university or any legal entity must be examined and declared valid by an authorized officer.
Certificates are attested to avoid the duplicate issue of certificates or fake certificates. Documents are attested from the country where it was issued.
You are required to attest your personal, educational and commercial documents depending upon the purpose of your travel to Gulf countries.
Attestation is mandatory for getting an employment visa or higher studies visa in Gulf countries.
Other than it is required for immigration, spouse visa, resident visa, business expansion etc.
To know more about Attestation for Gulf
Get in touch with our Experts
Attestation Process For Gulf Countries
The main attestation process for Gulf countries is as follows:
HRD Attestation/Notary/Home Attestation:Educational documents are attested from the concerned State HRDs where the certificate was issued. Personal documents are attested by the Notary and commercial documents are attested by the Chamber of Commerce.
MEA Attestation: After State Attestation, documents are submitted to the Ministry of External Affairs for attestation.
Embassy Attestation: Following the MEA Attestation, certificates are sent to the embassy in your home country.
MOFA Attestation: The final stage of attestation is MOFA Attestation. It is done by the Ministry of Foreign Affairs.
How Urogulf Helps in Getting Attestation for Gulf
Urogulf Global Services is an ISO certified attestation company approved by Ministries and embassies in India and abroad. We are the largest attestation company in the world that provides certificate attestation, authentication and verification services. Established in 2004, Urogulf has more than one hundred offices across India and abroad.
Urogulf can complete all the attestation formalities for Gulf countries. We are well known for genuine attestation, safety handling of documents and on time delivery. We have a network of more than 100 offices operating in all major cities of India and abroad. We have no agents or sub-agents.
We are here to help you
Looking for attestation services ? Reach out to us using the form below.
Promise on Quality and Reliability
We have over 15 years of experience and credibility in the field of document attestation services. The trust, and reliability that our customers has in us made us a trustworthy companion for them throughout these years. Our motto is a quick, hassle-free and secure document attestation services to all our customers who approach us