The Global Leaders in Certificate Attestation, Authentication and Verification Services
APPROVED BY MINISTRIES AND EMBASSIES | AN ISO CERTIFIED ATTESTATION COMPANY
Board Verification
Certificate verification is the first step in attestation process. Any document issued by the higher secondary board or any legal entity must be verified and declared valid by an authorized officer. Copies of transcripts and certificates submitted are sent for verification to the board that issued the document. Verification is necessary to avoid fake certificates.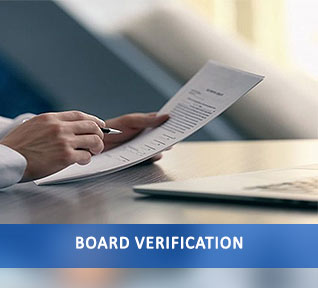 Time period for verification of documents differs from each state to state.
It is also noted that departments of some countries fail to use online verification system to know/view the originality of the process due to which duplicate attestations are taking place on a number of Certificates.
Verification of documents be it transcript or original certificate is the first and the most important process prior to embassy attestation to enable it to be valid in Gulf or other countries for getting employment visa, family visa, dependant visa, Trade visa from labor department of UAE, Kuwait, Oman, Saudi and so on.
To know more about our Board Verification
Get in touch with our Experts
Process of Board Verification
One of the important processes of attestation is certificate verification. You have to submit the documents to the board where it was issued. The higher secondary board verifies your documents and then it will be sent to the HRD for attestation process. Verification process is same in almost all the states. Other than Andhra and Telangana, all other states sent the verified documents from/board to the HRD. In Andhra and Telangana, General Administration Department [GAD] will do the attestation.
How Urogulf Can Help in Board Verification
Urogulf is an ISO certified attestation company approved by ministries and embassies in India and abroad. It is the largest attestation company with more than a hundred offices in India and abroad. Established in 2004, we provide certificate attestation, authentication and verification services.
Board verification is the first step in getting your school certificates attested. We can help you in getting your verification done faster. We have a hundred and thousands of satisfied customers who can testify to the quality, authenticity and efficiency of our work. For getting board verification, you can submit your documents in any of the Urogulf branches in India or abroad.
We are here to help you
Looking for attestation services ? Reach out to us using the form below.
Promise on Quality and Reliability
We have over 15 years of experience and credibility in the field of document attestation services. The trust, and reliability that our customers has in us made us a trustworthy companion for them throughout these years. Our motto is a quick, hassle-free and secure document attestation services to all our customers who approach us
Read what our clients are saying
The service is very much satisfying and job done earlier than expected time