The Global Leaders in Certificate Attestation, Authentication and Verification Services
APPROVED BY MINISTRIES AND EMBASSIES | AN ISO CERTIFIED ATTESTATION COMPANY
Duplicate Certificates and Mark Sheets from Universities & All Concerned Depts
Certificates and mark sheets are valuable to everyone. What if you lost them? Losing your original certificates, mark sheets are something that troubles everyone. Obtaining duplicate certificates is one of the most tiresome processes that people may encounter. Issuing a duplicate certificate or mark sheets is a long and tiresome process. It is issued only for genuine cases.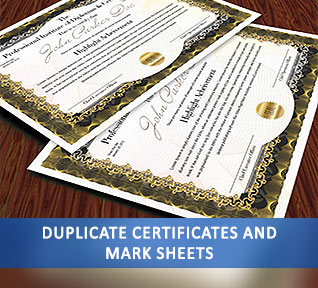 Duplicate Certificates and Mark Sheets
Certificates and mark sheets are essential documents when you apply for higher studies or for obtaining employment. Duplicate mark sheets and certificates are issued when you lose the original certificate. It can be used instead of the original one. To get a duplicate certificate, you need to file an FIR in the nearest police attestation. For applying duplicate educational certificates you need to apply in the concerned universities along with other procedures.
Duplicate Personal Documents from Concerned Departments
Personal documents are essential for establishing your identity, property ownership and financial assets. Personal documents like birth certificate, marriage certificate, death certificate, affidavit, power of attorney etc are essential in each individual's lives. If by some chance you lose or damage these documents, you will require duplicate certificates for further use.
You need to apply for a duplicate certificate from the concerned departments from the state where it was issued. You need to also file an FIR in the nearest police station.
To know more about Duplicate Certificates
Get in touch with our Experts
How Urogulf Can Help In Obtaining Duplicate Certificates from Concerned Departments
Urogulf Global Services is an ISO certified attestation company approved by Ministries and embassies in India and abroad. We are the largest attestation company in the world that provides certificate attestation, authentication and verification services. Established in 2004, Urogulf has more than one hundred offices across India and abroad.
Urogulf will help you to get duplicate certificates and mark sheets from concerned universities and departments of any state. You can submit the document in any of the Urogulf offices in India and abroad. We can help you with obtaining duplicate certificates and mark sheets from anywhere in the country. Our team of experts will provide you with exceptional service and timely delivery of documents.
We are here to help you
Looking for attestation services ? Reach out to us using the form below.
Promise on Quality and Reliability
We have over 15 years of experience and credibility in the field of document attestation services. The trust, and reliability that our customers has in us made us a trustworthy companion for them throughout these years. Our motto is a quick, hassle-free and secure document attestation services to all our customers who approach us