The Global Leaders in Certificate Attestation, Authentication and Verification Services
APPROVED BY MINISTRIES AND EMBASSIES | AN ISO CERTIFIED ATTESTATION COMPANY
Emigration Clearance For all Countries
Emigration Clearance is required for the safety of the Indian citizens in other countries due to the legal conditions in those countries. There are also other conditions and situations where you require emigration clearance. It is required when a citizen leaves the country with the intent of taking up employment abroad.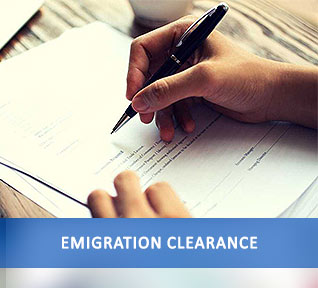 Why You Need Emigration Clearance?
Certain countries ask for emigration clearance for ECR passport holders who came to those countries for employment purposes.
Typically Indian passports are divided into two categories:
Passport with endorsement - Emigration Check Required [ECR]
Passport with endorsement - Emigration Check Not Required [ECNR]
All citizens who belong to the ECR passport category are required to get emigration clearance from the Protector of Emigrant [POE] before going to any of the 17 ECR countries for employment. An application form with prescribed details should be submitted to the concerned Protector of Emigrant [POE]. Protector of Emigrants after verifies the application and documents grant emigration clearance. An Emigration Clearance sticker shall be pasted by the POE office if you require emigration clearance.
To know more about Emigration Clearance
Get in touch with our Experts
How Urogulf Can Help In Emigration Clearance
Urogulf Global Services is an ISO certified attestation company approved by Ministries and embassies in India and abroad. We are the largest attestation company in the world that provides certificate attestation, authentication and verification services. Established in 2004, Urogulf has more than one hundred offices across India and abroad.
Urogulf helps you in preparing your documents and application required for getting emigration clearance from POE. We help you in completing the entire emigration clearance process in a timely manner. You can submit the necessary documents in any of the Urogulf offices in India and abroad. We guide you in completing the emigration clearance process so that you can travel abroad without any hassle.
We are here to help you
Looking for attestation services ? Reach out to us using the form below.
Promise on Quality and Reliability
We have over 15 years of experience and credibility in the field of document attestation services. The trust, and reliability that our customers has in us made us a trustworthy companion for them throughout these years. Our motto is a quick, hassle-free and secure document attestation services to all our customers who approach us