The Global Leaders in Certificate Attestation, Authentication and Verification Services
APPROVED BY MINISTRIES AND EMBASSIES | AN ISO CERTIFIED ATTESTATION COMPANY
House Surgeon Certificate Attestation
Attestation of House Surgeon Certificates is the act of witnessing a House Surgeon certificate by authorised person/persons/Departments/authorities with their official seal and signature. This attestation also confirms that, the specified House Surgeon certificate has been issued by that mentioned department and Seal and signature on that particular House Surgeon certificate is genuine.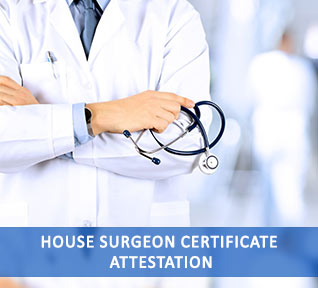 House Surgeon Certificate Attestation for Gulf
Attestation of House Surgeon Certificates from India: Attestation of House Surgeon Certificates to be completed first from the home Country of the applicant from where the Certificates issued, then the Foreign Country, where the candidate planning to migrate /travel. HRD attestation from India is not required on an House Surgeon certificates. House Surgeon Certificate Attestation required for almost all the Countries in the world to the proof of probation after course completion of Doctors. We can do GAD / Home Ministry / Home Department, Mantralaya, Secretariat Attestation and Notary Attestation, MEA \96 Ministry of External Affaires, Embassy or Consulate Attestation and MOFA attestation for all House Surgeon Certificates from the State Government\92s Departments and Foreign Embassies. Job category or designation and salary also are the main consideration to get a spouse visa in Gulf. Educational qualification Certificate attestation required to get a suitable Trade Visa from Labour department of UAE, Kuwait, Oman, and Saudi etc... And person with a good category job only eligible to get the Family visa. So a good designation also an important requirement to get a family status in Gulf and other Countries, for this an attested degree or other qualification certificate is a mandatory for most of the Countries.
Certificate Attestation Places
House Surgeon Certificate Attestation Places in India and Abroad are Hyderabad, Guwahati, Patna, Chandigarh, Raipur, Dadra and Nagar Haveli, Panaji, New Delhi (NCT), Gandhi Nagar, Bhiwani, Panchkula, Simla, Jammu, Srinagar, Ranchi \96 Jharkhand, Bangalore, Gulbarga, Belgaum, Mysore, Sasthamangalam \96 Trivandrum, Kochi, Kozhikode, Green city-Bhopal, Mumbai, Shillong, Bhubaneswar, Pudducherry, Chandigarh-Punjab, Vaishali Nagar - Jaipur, Chennai, Luknow, Dehradune, Kolkata, Dubai, Sharjah, Abu Dhabi, Doha \96 Qatar, Muscat \96 Oman, Kuwait, Saudi, Bahrain, UK, USA, Australia, Panama, Canada, Russia, Sri Lanka, Nepal, Pakistan, Bangladesh, Philippines and all Countries if people of that Country want to work abroad. Urogulf providing Certificate Attestation Services through our own offices from the Cities of Adoor, Ahmedabad, Alappuzha, Aluva, Anchal, Angamally, Attingal, Ayoor, Bangalore, Bhopal, Calicut, Delhi, Eranjipalam - Calicut, Changanassery, Chalakudy, Charummood, Chavakkadu, Chengannur, Chennai, Chingavanam, Coimbatore, Edathua, Irinjalakuda, Harippadu, Hyderabad, Jaipur, Kalamassery, Kalpetta, Kannur, Karukachal, Kayamkulam, Karunagappally, Kasargod Kottarakkara, Kottayam (1), Kottayam (collectorate), Kollam, Kottakkal, Kozhanchery, , Kothamangalam, Konni, Kumbanadu, Kuwait, Luknow, Madurai, Malappuram, Mallappally, Manglore, Manjery, Mavelikkara, Mumbai, Muvattupuzha, Mananthavady, Nagercoil, Nilambur, Oman, Orissa, Palakkad, Panthalam, Pala, Pathanamthitta, Pattanamthitta-2 (Collectorate Jn.), Pathanapuram, Perumbavoor, Perinthalmanna, Punjab, Qatar, Ranni, Sikkim, Sulthanbathery, Trivandrum, UAE, Thodupuzha, Thrissur, Tirur, Thalayolaparambu, Thalassery, Thamarassery, Thiruvankulam, Vadanappally, Valanchery, Vadakara, Vadasserikara, Wadakanchery in India and Abroad.
ATTESTATION OFFICERS
House Surgeon certificate attestation or Legalisation officers are Gazetted officer, Section Officer, Asst. Section Officer, Director, Asst. Director, Deputy Director, Secretary, Under Secretary, Special secretary, Additional Secretary, Notary Public, Registrar of House Surgeon , Asst. Registrar, Lawyer, Magistrate, Commissioner, Resident Commissioner, Sub Divisional Magistrate, Consular etc\85 Attestation Officers in India, Gulf and other Countries are doing signature and seal for completing the process of House Surgeon Certificate Legalization.
Want to know more about our House Surgeon certificate attestation
Get in touch with our Experts
Need and Use of Attestations
Attestation on House Surgeon Certificate is needed for the proof of probation after course completion of Doctors. Attestation of House Surgeon Certificates from India is required for getting the Visa from Gulf Countries also like UAE, Qatar, Oman, Kuwait, Saudi etc.
We are here to help you
Looking for attestation services ? Reach out to us using the form below.
Attestation Service Providers
House Surgeon certificate attestation service providers / Companies or Agents in India UROGULF is the First and Only Registered Attestation Company in India. Attestation Services through Urogulf is available for House Surgeon Certificates issued from all States & Union Territories of India. We are providing House Surgeon certificate Attestation or Legalisation services for all the Certificates issued from UAE, Qatar, Oman, Kuwait and USA also. The complete solution for the House Surgeon certificate attestation available through our Hundred plus offices and the progress of this certificate attestation procedures can be checked through our online tracking system from any where in the World.
Documents needed for an House Surgeon Certificate Attestation
Documents and supporting required for attestation of House Surgeon certificates are Original House Surgeon Certificate, Copy of House Surgeon Certificate, Passport Copies, Photos, translation of House Surgeon certificate etc\85.
Promise on Quality and Reliability
We have over 15 years of experience and credibility in the field of document attestation services. The trust, and reliability that our customers has in us made us a trustworthy companion for them throughout these years. Our motto is a quick, hassle-free and secure document attestation services to all our customers who approach us