The Global Leaders in Certificate Attestation, Authentication and Verification Services
APPROVED BY MINISTRIES AND EMBASSIES | AN ISO CERTIFIED ATTESTATION COMPANY
HRD Attestation Services
HRD attestation is the process of legalizing educational documents with an official stamp and signature from the concerned state HRD department. It is a mandatory process in certificate attestation. HRD attestation is the verification of educational documents. In India, each concerned state HRDs does the attestation process for using the educational documents abroad. Even though the process of HRD attestation is the same, the rules are different in each state HRD.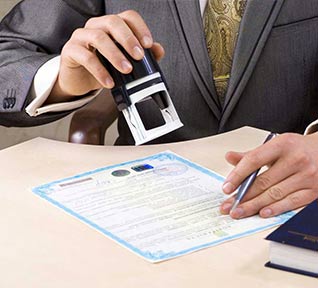 PROCEDURE OF HRD ATTESTATION
The rules of HRD document verification and attestation process varies from each state. You have to do the educational certificate attestation from the state where you completed your education. If you are a resident of Kerala, but completed your studies from another state, then you have to do the degree attestation from that state's HRD. In HRD attestation, the universities verify the documents first and only after that, the HRD attest the documents. HRD document attestation is done only for government approved (UGC/AICTE/NCERT) educational documents.
Need For HRD Attestation
HRD attestation process is compulsory while migrating to another country for higher studies or work. Educational certificate attestation is done to prove the authenticity of the certificates. HRD attestation is crucial for admission in foreign universities. While you apply for admission in foreign universities and schools, they need to know the authenticity of the educational certificates provided by you. So, you need to attest the certificates from the embassy of the migrating country located in your home country. Similarly, you need HRD attestation for getting employment opportunities in foreign countries. In some cases, you need to provide educational certificates for verification purposes.
To know more about HRD Attestation
Get in touch with our Experts
HRD Attestation By Urogulf
Urogulf Global Services is an ISO certified attestation company approved by Ministries and embassies in India and abroad. We are the largest attestation company in the world with more than one hundred offices across India and abroad. Established in 2004, we provide certificate attestation, authentication and verification services.
HRD attestation certificate is necessary for migrating to other countries for higher studies. At Urogulf, we help our clients from the complexities of the HRD verification and attestation process. Our team of experts will guide you through the entire procedure and take away the stress of travelling for attestation. We have a wide network for doing HRD attestation directly through the government agencies. We do HRD document attestation procedure according to the rules and regulation of respective state HRDs. You can submit the documents required for HRD attestation in any of our offices in India and abroad. We also help you to verify your education documents from respective boards and universities for attestation. We ensure the safety of your documents throughout the procedure. We will provide you with the HRD attestation and verification within a limited time.
We are here to help you
Looking for attestation services ? Reach out to us using the form below.
Promise on Quality and Reliability
We have over 15 years of experience and credibility in the field of document attestation services. The trust, and reliability that our customers has in us made us a trustworthy companion for them throughout these years. Our motto is a quick, hassle-free and secure document attestation services to all our customers who approach us
Read what our clients are saying
Excellent Service, Completed with in the provided timeline. Wonderful document tracking system. They requested 45 - 50 Days for Qatar Embassy including Local state HRD, but they completed with in 30 days(HRD+MEA+Embassy).No need to call them for each and every time, we can view the EXACT status of the application through DTSystem.Staff behaviors really good. Worth for Money
I have done my education certificates attestation from UROGULF. They will give a portal ID where we can track the document attestation progress. I had good experience with UROGULF :)