The Global Leaders in Certificate Attestation, Authentication and Verification Services
APPROVED BY MINISTRIES AND EMBASSIES | AN ISO CERTIFIED ATTESTATION COMPANY
M.Ed Certificate Attestation
Attestation of a M.Ed Certificates is the act of witnessing a M.Ed Certificate by authorised person/persons/Departments/authorities with their official seal and signature. This attestation of certificates confirms that a specified M.Ed certificate had been issued by the University and Seal and signature on that particular M.Ed is genuine. Attestation is the evidence by which M.Ed is attested or an indication that makes it evident or proof.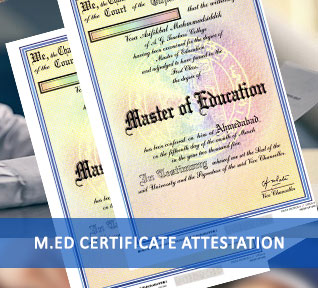 Legalisation or Authentication or Attestation of M.Ed is a process, which has to be completed in an Original M.Ed Certificate or document or a copy of it (rare cases) for the use of it in Foreign Countries or inside the Country. Attestation or authentication is the true and accurate representation of the facts or the authenticity of a M.Ed. Attestation of M.Ed means - The action of bearing the witness to affirm to be correct, true or genuine. Attestation Service is a consulting service that providing services to the public for attestation of M.Ed certificates. Attestation report is a report which expresses a conclusion about the reliability of a specified M.Ed
ATTESTATION PROCEDURES
Attestation or Authentication or Legalization procedures to be completed in a M.Ed Certificate from India or abroad for the use of it in Foreign Countries like UAE, Qatar, Oman, Kuwait, Saudi. We can complete all the following as well as related attestations or Verifications on your M.Ed certificates without your presence in India, UAE, Qatar, Oman, Kuwait, Saudi and USA.
Certificate Attestation Places
Certificate Attestation required either the Place or Country where the Certificate holder staying or from where the certificate has been issued. Some attestation places in India and Abroad are Guwahati, Patna, Chandigarh, Raipur, Dadra and Nagar Haveli, Panaji, New Delhi (NCT), Gandhi Nagar, Bhiwani, Panchkula, Simla, Jammu, Srinagar, Ranchi – Jharkhand, Bangalore, Gulbarga, Belgaum, Mysore, Sasthamangalam, Pullepady, Calicut Link Road, Green city-Bhopal, Bombay, Shillong, Bhubaneswar, Pudducherry, Chandigarh-Punjab, Vaishali Nagar – Rajastan, Tamilnadu, UP, Dehradune, Culcutta, Dubai, Sharjah, Abu Dhabi, Doha – Qatar, Muscat – Oman, Kuwait, Saudi, Bahrain, UK, USA, Australia, Panama, Canada, Russia, Sri Lanka, Nepal, Pakistan, Bangladesh, Philippines and all other Countries if people of that Country want to work in abroad. Urogulf providing Certificate Attestation Services through our own offices in India, Attestation services available from the Cities like Adoor, Ahmedabad, Alappuzha, Aluva, Anchal, Angamally, Attingal, Ayoor, Bengaluru, Bhopal, Kozhikode, Delhi, Eranjipalam, Changanassery, Chalakudy, Charummood, Chavakkadu, Chengannur, Chennai, Chingavanam, Coimbatore, Edathua, Irinjalakuda, Harippadu, Hyderabad, Jaipur, Kalamassery, Kalpetta, Kannur, Karukachal, Kayamkulam, Karunagappally, Kasargod, Kottarakkara, Kottayam, Kollam, Kottakkal, Kozhanchery, , Kothamangalam, Konni, Kumbanadu, Kuwait, Luknow, Madurai, Malappuram, Mallappally, Manglore, Manjery, Mananthavady, Mavelikkara, Mumbai, Muvattupuzha, Nagercoil, Nilambur, Oman, Orissa, Palakkad, Panthalam, Pala, Pathanamthitta, Pathanapuram, Perumbavoor, Perinthalmanna, Punjab, Qatar, Ranni, Sikkim, Sulthanbathery, Trivandrum, UAE, Thodupuzha, Thrissur, Tirur, Thalayolaparambu, Thalassery, Thamarassery, Thiruvankulam, Vadanappally, Valanchery, Vadakara, Vadasserikara, Wadakanchery etc… in India and Abroad.
ATTESTATION OFFICERS
Attestation or Authentication or Legalization Officers in India, Gulf and other Countries for completing the M.Ed Certificate Attestation/Authentication/ Legalization Formalities are given below. Attestation Officers of are using their seal and signature to show/prove the process as M.Ed certificate attestation. But there is no online checking system to check the originality of the process in some countries till date, due to this, a lot of duplicate attestations are happening in a certificates.
To know more about M.Ed Attestation
Get in touch with our Experts
Need and Use of Attestations
Attestation on M.Ed Certificates is needed for applying an Employment Visa in Gulf as well as foreign Countries. Attestation on M.Ed Certificate needed for Changing the Sponsorship or Changing the Resident Visa. M.Ed Attestation required for changing the profession and Transferring a Job. M.Ed Attestation needed for changing the designation and Applying for Family visa. Attestation required for applying a visa for parents. Attestation needed for applying a school admission. Attestation needed to apply for a PCC in Gulf and other countries. Attestation or Legalisation needed to get a job visa. M.Ed Attestation needed for changing the designation for family status. Attestation required for changing the designation for higher salary. Attestation required for change of visa status in abroad. Attestation required for Attending an interview and writing exams. Attestation required for Attending the tests or attending MOH Exams. Attestation required for giving an authorisation from abroad.
We are here to help you
Looking for attestation services ? Reach out to us using the form below.
Attestation Service Providers
M.Ed Certificate attestation service providers / Companies or Agents in India UROGULF is the First and Only Registered Attestation Company in India. Attestation Services through Urogulf is available for Marriage Certificates issued from all States & Union Territories of India. We are providing marriage certificate Attestation or Legalisation services for all the Certificates issued from UAE, Qatar, Oman, Kuwait and USA also. The complete solution for the Marriage certificate attestation available through our Hundred plus offices and the progress of this certificate attestation procedures can be checked through our online tracking system from any where in the World.
Documents needed for a M.Com Certificate Attestation
Documents and supporting required for attestation of M.Ed Certificates from India, Gulf and other Countries. Some documents required for M.Ed certificate attestation are Certificates Original, Mark sheets Original, Passport Original, Transcript Original, Job offer letter Original, Embassy attested Passport copy Original, Invitation letter from abroad Original, Call letter Original, Letter from Employer Original, Ration Card Original, Election ID Original, Pan Card Original, Driving Licence Original, Lower Qualification Certificates Original, Letter from College Original, Letter from Principal Original, Authorisation letter Original, M.Ed Original, Under Graduate Original, Diploma Certificate Original, Higher Secondary Certificate Original, High school Certificate Original, Provisional Certificates Original, Translation of Certificates Original, Visa Original. Passport size Photos. Email request from the Certificate holder. Letter of the University Copies documents and supporting required for attestation of M.Ed Certificates from India, Gulf and other Countries. Certificates Copies, Mark sheets Copies, Passport Copies, Transcript Copies, Job offer letter Copies, Embassy attested Passport copy Copies, Invitation letter from abroad Copies, Call letter Copies, Letter from Employer Copies, Ration Card Copies, Election ID Copies, Pan Card Copies, Driving Licence Copies, Lower Qualification Certificates Copies, Letter from College Copies, Letter of Principal Copies, Authorisation letter Copies, M.Ed Copies, Under Graduate M.Ed Copies, Diploma Certificate Copies, Higher Secondary Certificate Copies, High school Certificate Copies, Provisional Certificates Copies, Translation of Certificates Copies, Visa Copies.
Promise on Quality and Reliability
We have over 15 years of experience and credibility in the field of document attestation services. The trust, and reliability that our customers has in us made us a trustworthy companion for them throughout these years. Our motto is a quick, hassle-free and secure document attestation services to all our customers who approach us