The Global Leaders in Certificate Attestation, Authentication and Verification Services
APPROVED BY MINISTRIES AND EMBASSIES | AN ISO CERTIFIED ATTESTATION COMPANY
UK NARIC Or UK ENIC
We provide registration and all other support services for completing your UK NARIC or UK ENIC application through our 100 plus offices across the world.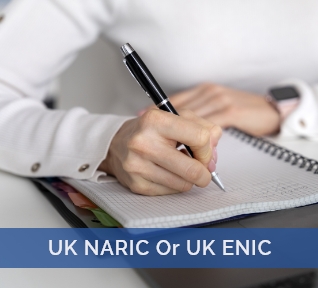 National Academic Recognition Information Center
The National Academic Recognition Information Center of the UK, commonly known as UK NARIC is now known as UK ENIC, the UK National Information Center for the recognition and evaluation of international qualifications and skills.
UK NARIC or UK ENIC do compare your qualification or skills to the UK equivalent. Even those in English-speaking countries, other than the UK, must still provide a Statement of Comparability to show their degree is comparable to a UK degree. All statements issued by UK NARIC and UK ENIC are valid. Ecctis provides official UK national agency services on behalf of the UK Government in qualifications, skills and migration.
The degree will be officially recognised if the institution that awards your degree is on the list of recognised bodies. The UK recognised qualifications from the EU, Norway, Switzerland, Iceland and Liechtenstein which are of an equivalent standard to UK qualifications. You can check the UK list of regulated professions to find out if your profession is regulated.
After the 6th April 2016 all visa and ILR applicants must have their non-British qualifications certified by UK NARIC to show they are equivalent to British standard. Without this certificate and evidence, your ILR or Visa application may be rejected.
You can prove your knowledge of English by having a degree level academic qualification that was taught in English, if you studied abroad, you'll need to apply through UK ENIC (formerly UK NARIC) for confirmation that your qualification is equivalent to a UK bachelor's degree, master's degree or PhD.
The IELTS Academic test is generally the most recommended if you want to study an undergraduate or postgraduate course at a UK university. TOEFL is another of the world's most recognised English language tests.
To know more about UK NARIC / UK ENIC
Get in touch with our Experts
Applying for a UK NARIC or UK ENIC Certificate has become easy now !
The well experienced team of Urogulf Global Services will be there for you to support and register for a new account and all the levels of application process.
The UK NARIC, the National Agency for International Qualifications and Skills changed its name to UK ENIC, after the UK's departure from the European Union. The UK NARIC recognition agency function has to change from a NARIC (which is an EU-only title) to an ENIC (the wider European title for national recognition agencies) in order to meet the UK's continuing treaty obligations under the Lisbon Recognition Convention. Therefore, on 1st March 2021, the UK NARIC agency title became UK ENIC. This change of name, UK NARIC to UK ENIC will not affect the services and quality of the evaluation process or agency.
UK NARIC, the Agency is responsible for providing information, advice and expert opinion on vocational, academic and professional qualifications and skills of more than 180 countries worldwide.
UK NARIC or UK ENIC application and support services from Urogulf Global Services
Urogulf Group is the largest document authentication and attestation service provider in the world, which is located in 7 Countries including India and GCC, provides application and related support services to get the UK NARIC or UK ENIC process completion through its 100 plus offices across the world. The well experienced team of Urogulf Global Services help the people of all countries to apply for UK NARIC or UK ENIC.
Urogulf has been a Gold Standard International Service and Solution provider for decades, giving the services for the people across the world. We are an internationally trusted and respected reference point for the services of Ministries, Embassies, Consulates, Universities, Boards, Departments, Institutions and Employers.
We are based in India with Global Headquarters in Dubai, UAE and operate worldwide, with a global network and client base. We have a 18 years of track record in international consultancy services especially in documents Authentication, Verification, Attestation and Embassy Legalization and related services.
We are here to help you
Looking for attestation services ? Reach out to us using the form below.
Promise on Quality and Reliability
We have over 15 years of experience and credibility in the field of document attestation services. The trust, and reliability that our customers has in us made us a trustworthy companion for them throughout these years. Our motto is a quick, hassle-free and secure document attestation services to all our customers who approach us