The Global Leaders in Certificate Attestation, Authentication and Verification Services
APPROVED BY MINISTRIES AND EMBASSIES | AN ISO CERTIFIED ATTESTATION COMPANY
Visa Stamping for all Countries
Visa Stamping is the process in which the impression of visa is placed on a passport.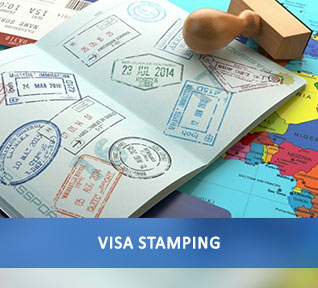 The visa gives you the authorization to enter a foreign country for a specific period of time.
It verifies the credentials and identity of the person who is going abroad.
Visa is a mandatory requirement for travelling to another country for a temporary or permanent stay.
Without a visa, you are not allowed to enter the country.
Visa stamping is placed on passport and it shows the validity of the visa and name of the country you are travelling to.
To know more about Visa Stamping
Get in touch with our Experts
How Urogulf Can help in Visa Stamping Services
Urogulf is an ISO certified attestation company approved by ministries and embassies in India and abroad. It is the largest attestation company with more than hundred offices in India and abroad. Established in 2004, we provide certificate attestation, authentication and verification services.
Urogulf can help and assist you in completing the visa stamping formalities for any country you are travelling to. Our dedicated team of professionals offers superior services based on the requirements of the customers. We have an excellent track record for all attestation related services. We handle the documents with utmost safety and provide timely delivery to the customers.
We are here to help you
Looking for attestation services ? Reach out to us using the form below.
Promise on Quality and Reliability
We have over 15 years of experience and credibility in the field of document attestation services. The trust, and reliability that our customers has in us made us a trustworthy companion for them throughout these years. Our motto is a quick, hassle-free and secure document attestation services to all our customers who approach us