The Global Leaders in Certificate Attestation, Authentication and Verification Services
APPROVED BY MINISTRIES AND EMBASSIES | AN ISO CERTIFIED ATTESTATION COMPANY
Visit Visa Arranging to all Countries
Travelling to new countries for holiday or business purpose is common these days. But arranging visiting visa is the most tiresome process.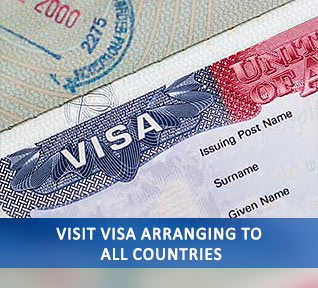 The procedures for getting a visit visa are relatively simple and hassle-free and if all documents are in order, then the visit visa is issued within 72 hours.
In urgent cases, visit visas are also issued within a day.
Visiting visa is different from the normal employment or residence visa.
Travellers who have a visit visa stays in a particular country for tourism, business or personal purpose.
They necessary don't live in the country for an indefinite period of time.
To know more about Visit Visa
Get in touch with our Experts
How Urogulf can help in Getting Visit Visa
Urogulf can assist you in providing all visit visa related services from India, UAE, Kuwait, Qatar, Oman etc. Approach us for the easiest and convenient way to get a visit visa for any country you wish to travel. We provide all Travel and Visa related Services from India, UAE, Kuwait, Qatar, Oman etc… for Indians and Foreigners, who wish to travel anywhere in the World.
We are here to help you
Looking for attestation services ? Reach out to us using the form below.
Promise on Quality and Reliability
We have over 15 years of experience and credibility in the field of document attestation services. The trust, and reliability that our customers has in us made us a trustworthy companion for them throughout these years. Our motto is a quick, hassle-free and secure document attestation services to all our customers who approach us